Baba Richard "Dick" Claxton Gregory (Oct. 12, 1932 to 19 August 2017): Ashay!
Dr. Richard Claxton "Dick" Gregory (84) joined the ancestors August 19, the same day as the Millions for Prisoners Human Rights March in Washington, DC.  A longtime advocate for human rights, Gregory who ran for President of the United States, went to Iran to negotiate the release of Americans held hostage, his Bohemian diet, extensive fasts for human rights, ten years ago his visit to Oakland to honor the lives of the 918 adults and 305 children–including 40 infants—who lost their lives along with U.S. Congressman Leo Ryan and a United Press International film crew.  Jim Jones followers, killed that day were majority black, and rest now in a mass burial site at Evergreen Cemetery in Oakland.  Dr. Gregory came to Oakland at the invitation of Dr. Jynona Norwood, founder and executive director of Jonestown Memorial Services and Wall. On that fateful day, her family lost 27 loved ones including her beloved mother and three-month-old cousin Charles Garry Henderson–the youngest child to perish in Jonestown. Later there was a marker placed at the site with a list of names of those killed. Omnira hosted a grave sweeping ritual two years ago to honor those killed in Jonestown, Guyana.
June 19, 2015 I was in Dr. Gregory's company again, he was a part of a DC tradition called, Black Power Talks where the community honors one of their own. Dr. Frances Cress Welsing was the honoree, Gregory's daughter, Ayanna Gregory, who is a wonderful singer, shared a song, then introduced her father who helped us sharpen our focus so that we could safeguard what we valued most: black sanity, black health and black lives.
Melvin "Maalak" Atkins, Soul Chi, would often bring Mr. Gregory to Marin City to talk to the youth. Gregory's ability to connect crooked political dots was unparalleled and the man never forgot anything.  Dr. Gregory is survived by his wife, Lillian; three sons, Christian, Gregory and Yohance Maqubela; seven daughters, Ayanna, Lynne, Michele, Miss, Paula Cenac, Satori and Zenobia Chisholm; two brothers, Ron and Garland; two sisters, Pauline Hariston and Delores Hill; 16 grandchildren; and five great-grandchildren.
22nd Annual Maafa Commemoration
The Maafa Commemoration, the annual tribute to African Ancestors of the Middle Passage is predawn (about 5:30 a.m.), Sunday, October 8, 2017 at Ocean Beach, Fulton at the Great Highway. If you are able to give someone a ride or if you need a ride call: 510-255-5579 and leave a message. Black people are encouraged to dress warmly, wear white, bring vegan or vegetarian items to share, a chair to sit on if you need such accommodations, flowers for the offering, drums and other instruments to play, wood for the bonfire. For information visit maafasfbyarea.com and remembertheancestors.com
Hurricane Season
It's Hurricane Season in the Gulf and many areas of Houston are under water. It is unfortunate according to coverage in the Atlantic magazine, that the majority of those at risk for drowning are the poorer black communities. Houston's mayor's response to the impending storm, sounds a lot like what happened in New Orleans in 2005 – the Army Corp of Engineers are releasing water from dams (increasing flood water), while residents are told to stay home, no evacuation directive given. I spoke to Robert King and he said he can't leave New Orleans because the highway he travels home to Austin is now closed. However, he predicts there will probably be flooding in NOLA because pumps are not working in the city (which is below sea level). This is further complicated by Hurricane Irma headed that way. Mahkmud's (Wilbur Murry) nephew and family were evacuated from their Houston home Monday, August 28. All of this was preventable, since Houston officials were warned of increasing flooding in the coming years due to global warming. The same is true of Miami. Al Gore's "An Inconvenient Truth sequel" (2017) is both a warning and a call to action. What is missing from the film and these public polices is the impact of environmental racism on the quality of life for disenfranchised citizens. Look at the flooding last fall in Baton Rouge. The government response was inadequate and these black people were home owners. Look at the shutting down of hospitals throughout the Bay Area. Urgent care is band aide medicine. How is this inaccessible care connected to an insidious genocide, silently snaking its way throughout black community? Fracking, coal, oil refineries, and poor water quality (especially in the Central Valley) are all issues affecting us locally related to climate change—the record high temperatures which are frying those sisters and brothers without air conditioning behind bars, are climate changes wrath. It is more than the disappearance of our furry and feathered brothers and sisters. We are also going to disappear as a species—
I am so disappointed I missed Ernestine Shepard at an AARP Unitedheathcare  program in Oakland and Rain Pryor in San Jose. I hope both the women return – Rain in a Bay Area premiere of her one woman show: "Fried Chicken and Latkes", shared stories and songs about growing up black and Jewish in a politically incorrect era and how she navigates the terrain to find self, while Ms. Shepard (81) who is an example of living fit and well as an elder, wowed (I'm sure) the audience with her beauty and strength. Listen to an interview with Rain on Wanda's Picks Radio: http://tobtr.com/10211269

Lower Bottom Playaz's present: Beyond the Bars: Growing Home dir. Ayodele Nzinga

I went to a rehearsal of Dr. Nzinga's current work, Beyond the Bars: Growing Home. The play looks at returning citizens and men who have learned hard lessons behind bars and are using these lessons to transform their lives. The work is based on interviews the director and playwright has had with men who collectively have served 300 years behind bars.
It is a marvelous experience. Dr. Nzinga is an accomplished poet as well, so the work is lyrical and poignant and powerful. The cast reflects the lives of the men characterized in these stories, which take place here in Oakland and the San Francisco Bay Area.  All of Dr. Nzinga's work is restorative, in that it builds character and spirit. The question the men are asked throughout the play is: Where is home?
For some, it is gone, irretrievable, for others just within grasp. The characters discuss adaptation and assimilation as useful tools once released. There is a young man who attends a therapy workshop which he is mandated to attend where he meets these men, who try to share their mistakes so the youth does not end up where they are.  It is up at The Flight Deck, 1540 Broadway Street, in downtown Oakland, through Sept. 3. Shows at 8 p.m. Friday-Sat., Sunday at 2 p.m. Tickets start at $20. However, if you want to go, send the director an email. Opening weekend Dr. Nzinga was giving away tickets to affected community members. Visit lowerbottomplayaz.com or email: wordslanger@gmail.com
Radio Golf at Multi-Ethnic Theatre
August Wilson's Radio Golf, a drama about would-be redevelopers planning to gentrify a section of Pittsburgh's Hill District, the center of the local African-American community, is directed by Gloria Weinstock, produced by Multi-Ethnic Theatre and SF Recovery Theatre is up at PianoFight, 144 Taylor Street in San Francisco, Wednesdays through Saturday Sept. 9 (No performance Sept. 8.)  All performances at 7:00 pm.   Tickets $25-$30; $20 opening week. at https://www.eventbrite.com/e/radio-golf-by-august-wilson-tickets-36522244015
On the Fly:
At La Pena Cultural Center: Black in Latin America: Haiti & the Dominican Republic, September 14 @ 7:00 pm – 9:00 pm. 3105 Shattuck Avenue, Berkeley. Black Eyed Peas Festival, Sat., Sept. 16, 11- a.m. to 6 p.m. at Oakland Technical High School Lawn, Miss Faye Carol w/pianist Joe Warner, at The Back Door, Sept. Sundays, at 5 p.m., $20 at the door. Visit fayecarol.com SF Fringe Festival, Sept. 8-23. Cat Brooks is performing: Tasha at the Exit Theatre: Sept. 9 at 5:30 p.m., Sept. 10 at 7 p.m., Sept. 12 at 7 p.m., Sept. 17 at 8:30 p.m.  Tasha is a one-woman performance piece based on the 2015 in-custody murder of Natasha McKenna in the Fairfax County Jail.  Berkeley Art Museum and Pacific Film Archive presents Reflection and Resistance: James Baldwin and Cinema, (Sept. 14-Nov. 16), a program highlighting the cultural icon, James Baldwin's work of criticism, The Devil Finds Work. The films are introduced by faculty and special guests. Films in the series include: I Am Not Your Negro,  The Defiant Ones, In This Our Life, James Baldwin: The Price of the Ticket, dir. Karen Thorsen (US, 1989) Digital Restoration. Thorsen will be at the screening, Thursday, Oct. 5, 7 p.m.

Other Fringe — http://www.sffringe.org/
Nigga-Roo
Nigga-Roo is a multidisciplinary performance inquiry into Black identity that bravely dissects Blackness as an original, necessary social construct. As Blackness is rooted in slavery and saturated in caricature, creator Dazié Grego-Sykes utilizes black face, spoken word, movement, and monologue to disarm and disrupt in 60 minutes of stage-time. Sept. 9 at 9pm, Sept. 10 at 4pm, Sept. 17 at 8:30pm, Sept. 21 at 7 pm
BLACK!
Four individuals describe their personal experience with the word "BLACK!" and unpack how their stories, their lives, their perspectives have been impacted by this word, positively or otherwise. Are there similarities in these individuals' experiences or has society 'bought into' the stereotypes that exist? And, if so, why? Sept. 15 at 8:30pm, Sept. 16 at 4pm, Sept. 20 at 8:30pm, Sept. 22 at 8:30pm
Theatre
Congrats to Kheven Lee LaGrone whose play, "The Legend of Pink" opens the season at Theatre Rhinoceros at Gateway Theatre, 215 Jackson Street, in San Francisco, Sept. 13-30. There are free tickets available for all previews and opening night. Visit http://therhino.org/
"The Legend of Pink" features a beautiful drag queen named Pink. The story is based in 1989, in a West Oakland street controlled by a violent drug gang.  However, Pink believes she was meant for the diva life. She thinks she might have found a ticket to that diva life when she meets a flashy young man who takes an interest in her.  Her friend Ace, who has more than just friendly feelings for Pink himself, warns her that inviting the mysterious stranger to visit her could be dangerous.  Some people in the neighborhood have seen the young man and have their suspicions about him.  When Pink continues to see him, its discovered that, indeed, the man isnt who she thinks he is.  Things turn violent and deadly, and Pink's life is in jeopardy.  Her life–and the West Oakland street–will change forever.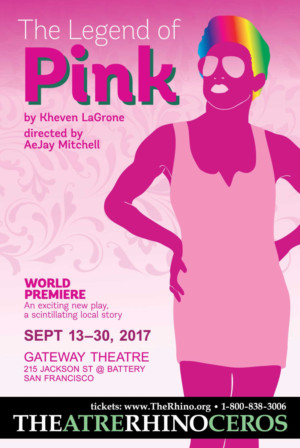 Free tickets for The Legend of Pink at Theatre Rhinocerous (@The Gateway in San Francisco beginning Sept. 13, 8 p.m. to Opening Night, Sept. 16, 8 p.m.)
Unlimited comp tickets are available for all Previews and Opening night.
To reserve comps, follow these steps:
Use this link to reserve free tickets:
http://www.brownpapertickets.com/event/3065710
Use the drop-down menu to select a Preview or Opening date
Click on Enter a Password or Discount Code
Click in the Search box and type PINKCAST but DON'T HIT ENTER!
Click on Show Available Tickets
An option to reserve tickets at no charge will appear and
you can choose the number of tickets, add to cart, and check out.​
To read about the play read a listing here

Dance
PUSH Dance Company Presents: 12th Home Season ​and Fourth Annual PUSH​fest​ Dance Festival Featuring two different programs of local and visiting artists over four evenings. Mothership (Part II)​ is a World Premiere with choreography by Raissa Simpson. Other World Premieres are by: Mary Carbonara, Kao Vey Saephanh & Katerina Wong
Program A is Friday September 22, 8pm and Sunday September 24, 4:30pm. Program B is Saturday September 23, 8pm and Sunday September 24, 7:30pm at ODC Theater, 3153 – 17th Street, San Francisco.
Tickets are: $28 in advance, $30 at the door, $15 for seniors and students; $50 for a Festival pass that includes both programs. Visit http://www.pushdance.org/festival or call the Box Office: ​415.863.9834 or www.pushdance.org/festival

Embodiment Project & Jesse Hewit are a part of Transform Fest – Fall 2017/
Sep 14 2017 — Sep 22 2017, YB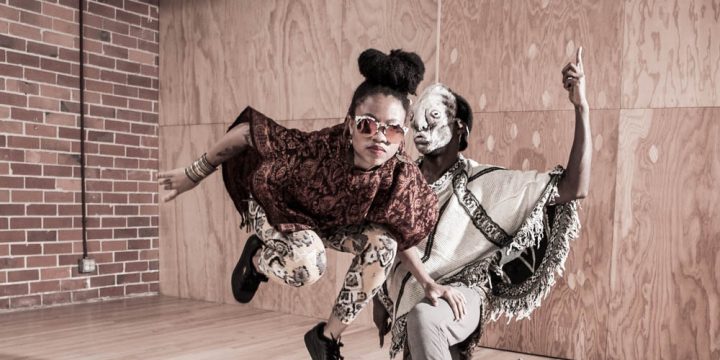 CA Forum, Thursday and Friday, 8PM $25
https://ybca.org/whats-on/transform-program-a
The work incorporates hip hop, music, stories and film. It looks at the power of story to transform and heal. The film uses clips from Shakti Butler's Healing Justice, having its world premiere Sat., Sept. 16

Film
New World-Trust Film: Healing Justice
Healing Justice is the latest film from Dr. Shakti Butler and World Trust Educational Services. The World Premiere is in Oakland, on September 16th, 5-11 p.m. at the First Congregational Church of Christ, 2501 Harrison Street. The screening and discussion is 6:30-9 p.m.
Visit: https://world-trust.org/product/healing-justice/ for tickets and all the details.
Millions for Prisoner Human Rights March in Washington D.C.
Saturday morning, August 19, the day dawned bright and sunny, not a hint of the rain that drenched us the evening before. At 10:30 a.m. when I arrived at Freedom Plaza, there were people with posters and event tee-shirts and a brother with a bullhorn. Robert King and Albert Woodfox were there in Abolish the 13th tee-shirts. King was passing out information about the law which legalizes slavery. Later on, at the rally, he would conclude the event which lasted about five hours.
The march through the streets was exciting, as the people along the route learned about legal slavery in this country and the millions of people currently barred from citizenship. King called it a moral dilemma. "All that is legal is not moral." He stated and just the way chattel slavery was abolished in 1865, the same can happen in 2017 with the 13th Amendment and the clause which permits slavery under certain conditions: incarceration or judicial supervision or parole. As long as a person cannot vote or serve on a jury, he or she is not a citizen nor are they free.
The evening before there was a reception at the famous, East Union Baptist Church with introductions of the local organizing committee and convener, Krystal Roundtree. Local organizers included: Tomiko Shine, Aging People in Prison Campaign, Christen Boas, Yango Sawyer, Voice for Returning Citizens, Debra Rowe, Returning Citizens United, Tyler Hopkins, DC Marijuana Justice, Elize Manoukin, Nicole Meyer, Tracey Zhang, and Anna Cohen and that evening as a part the Black August Commemoration weekend, the program.
The keynote speaker that Friday evening was Lashonia Thompson-El, WIRE founder and published writer. Before she spoke she invited to join her and speak the other women who are a part of the Women Involved in Reentry Efforts. They spoke the following afternoon at the rally as well. Many featured speakers spoke at the rally on Saturday.
Ms. Roundtree's organizing paid off with a program that was comprehensive; however, except for the inclusion of Allegra Taylor, Hugo Yogi Pinell's daughter and the San Quentin 6, there were no other representatives to speak about the issues of prisoners in California.  Allegra's statement that afternoon and later that evening at the Black August dinner was a highlight of the Black August event, Black August created to honor George Jackson, his brother Jonathan Jackson and other fallen soldiers killed this month.  However, I was surprised, no one mentioned the Hunger Strike in California or the Formerly Incarcerated and Convicted Persons and Families Movement, which convened a large conference in Oakland last September on the anniversary of the Attica Rebellion.  If there were 16 rallies throughout the country, Roundtree did not mention where, so I do not know if there was one in New Orleans.  I was happy to see folks from the Bay. One young woman from Alabama is studying at Stanford and a prisoner she visits at San Quentin told her about the March and Rally and encouraged her to attend since she would be in Washington. There were lots of youth on the march and at the rally. A contingent from Howard University were there with signs. One young white man there said he felt obligated to be present given his white skin privilege and policies and positions taken in his name. There were union organizers present and when the shade moved and the audience shifted to follow it, the organizers moved the chairs on the stage so that it faced the White House.  Agents told Krystal immediately that they could not face the White House, so the podium had to be at a cattycorner to the building.
Secret Service and other police stood as the afternoon wound down within view. A few white women head hands – their bodies a barrier between their black allies and the police force. The agents even sent in a rabble-rouser, who tried unsuccessfully to stop the rally, by challenging the speaker, James Makey, Stuck on Replay, out of Boston who had a contingent of 20 or so youth with him. His poetry addressed the trauma that shadowed his birth and childhood. Inarticulate, he had no words to name what he felt before he was born, so as he writes in his poem, he kept replaying the drama that characterized the fatalism that was his life until he lost his brother and woke up.
Other speakers were Michael Bonds, from Boston, who was eventually exonerated after serving ten years, the last three in solitary confinement; Ramona Africa, MOVE Organization, joined us to talk about Mumia Abu Jamal whose body shows no trace of the hepatitis; Tribal Raine, DC, shared a poem about a broken system and a broken government, and her husband, Max Parthas, New Abolitionist Radio, gave a comprehensive history of the 13th Amendment.  General Rashid of the Provisional Government of the Republic of New Afrika, spoke as did General Parker, Central Illinois Coalition of Black Trade Unionist. Parker wore an All of Us or None shirt.  Tomiko Shine who'd spoken the evening before gave an impassioned speech about Aging People in Prison – Human Rights Campaign. What she stated was so true, they have our bodies and by the time our people are released they are all but dead. Jihad Abdulmumit spoke about the Jericho Movement and Paulette Dauteuii brought revolutionary greetings and words from Comrade Leonard Peltier, Shaundra Scott, ACLU South Carolina spoke, as did Yusuf and his mother Shaundra Salaam, about the Central Park Five & Justice for the Wrongfully Convicted. Yusuf's story was made into a Ken Burn's film about the five Black and Latino boys convicted of raping and beating a white woman runner in Central Park. Though the charges later dropped—the boys' lives ruined. What moved me the most was Mrs. Salaam's story of how losing her son affected her life then and now.  Listen to an interview with Burns and
Shout outs were given at each gathering I attended, even the Black August dinner, I attended Saturday evening where a preview of the Sunday program honoring the San Francisco Bayview Newspaper was shown.  I kept wondering why no one gave a shout out to California, one of the largest slave states in the country.  I also did not understand why, considering she knew I was present, Kilaika Anayejali kwa Baruti, the host at the dinner not at least acknowledge my presence, considering the Black August committee was honoring my paper and I was shown in the video footage. Even acknowledgment as one of the "I Am We: Ubuntu" sponsoring organizations would have been nice.  Wanda's Picks and Maafa San Francisco Bay Area are listed there. Krystal conclude the rally with remarks on where do we go from here with a commitment to not stopping until slavery behind bars ends.  Speakers addressed ban the box without referencing the successful campaign in California and the National Ban the Box Campaign demand led by California's Dorsey Nunn, Director, Legal Services for Prisoners with Children (LSPW).  I hope she connects with the Formerly Incarcerated and Convicted Peoples and Families Movement, All of Us or None, LSPW and California Coalition for Women Prisoners (where I am a board member) and is more inclusive of the rest of the country, especially California, next time or perhaps I should march closer to home.
It was great though being in Lafayette Park, the White House a part of the backdrop demanding an end to legal slavery.
Eclipse 2017
I headed from Washington DC to Salem, Oregon for the solar eclipse. Arrived in Oregon about 11:30 p.m. and drove the hour to the Fairgrounds where I parked and dozed for a couple hours.  A volunteer, I got a shirt, badge and glasses.  My job was to walk around and help where necessary.  The program, in the stadium. which began at 5:30 AM featured astronauts: Jim Brau, Ph.D, who explained what eclipses are and about seeing the eclipse from orbit, while Don Pettit, Ph.D., shared what to expect just before 9:05 a.m., "first contact."  However, there were games and booths with activates for the entire family:  ice sculptures, solar race cars, art activities such as making a bracelet with beads with would glow when the ultraviolet light hit them late during the eclipse; a flip book, a full moon calendar and a star chart for the calendar year.  There were also solar themed food booths—the longest line was at the pancake booth.
Portland Taiko opened the ceremony at sunrise and played during the moments leading to Totality.  There were science educators who did experiments on stage, a bamboo flute signaled when we could remove our protective glasses to see the corona as the moon blocked the sun.   In between there were quizzes with prizes; we watched the NASA TV coverage with interviews with viewers in Charleston.  There was a science rap artist who was pretty good. It was pretty spectacular! The event was in collaboration with NASA, OMSI, the University of Oregon.
Destiny Muhammad Plays John and Alice Coltrane

Destiny Muhammad plays Tribute to John and Alice Coltrane, Sept. 24, 4 p.m. to 11:30 p.m. at Cafe Stritch, 374 1st Street, San Jose. For a review of her Tribute to Alice Coltrane in August along with a radio interview visit wandasabir.blogspot.com
African American Museum of History and Culture 101
The impressive edifice shaped like a tiered Asante stool, takes your figurative breath away before entrance. The brass filigree create delicate tapestry visible as one gets closer to the edifice. As the bus driver told me when I asked for directions: "It's the most beautiful building on the Mall."  The warm humid afternoon as I waited for my dear friend Monica's Aunt Pam to walk me into the museum.  The first time I visited, I asked for help at the information desk and the woman gave me a map of the 7 stories—without much guidance on how to navigate 400+ years in five hours. (I arrived at noon.)
So I went to the history galleries, specifically: C3: Slavery and Freedom 1400 – 1877, on Wednesday and spent the entire afternoon walking through Africa, onto and off slave ships into perhaps a worse hell in multiple landscapes in Europe and the Americas, into insurrections and fights for liberty and freedom, our ancestors met with broken promises time and time again.
I missed C2: Defending Freedom, Defining Freedom: The Era of Segregation 1876-1968 where  the Segregated Railroad Car, the Interactive Lunch Counter exhibit and the Emmett Till Memorial, the Modern Civil Rights Movement, Jim Crow, The Great Migration, were.  Above that was C1: A Changing America: 1968 and Beyond, located at the very top landing and included exhibits highlights black history through decade snapshots. There was a great exhibit on gentrification: Cities and Suburbs.
When I returned that Friday, I started in the gift shop, which closes a half hour before the museum a 5 p.m., to see if I could find a catalog to guide my second and last day there. It did. However, I did not have time to really study it.  There were also no regular docent tours or even an audio tour of the museum, which would have been so helpful.
Winging it again, I took the escalators up to the Community (L4) and Cultural (L3) galleries. I skipped the Concourse and wished I'd known that was where the Contemplative Court was. I was scrambling to get to the gallery with the rotating exhibition—
All the galleries: C levels and L levels, are full of personal stories which situate the history in lives rather than numbers and statistics, though those are present as well.
Videos located in C3: Slavery to Freedom 1400 to 1877, highlight most if not all the periods enabling visitors to better conceptualize or grasp the impact of enslavement on all of America and Europe. The riches made from Africans and the vast inequity present in the sanctioned trade in human beings did not have to be highlighted. It was understood.
What needs to be emphasized is the fact that even if Africans participated and some became rich as well in the process of legal human trafficking, Europe and America's continued wealth is attached to Africa—its people and mineral resources, while Africa did not benefit at all from the invasion and material losses. The recent novel by Yaa Gyasi, "Homecoming," speaks to this generational splitting of genetic atoms and the psychic unrest this scattering has on the born and yet to be born.  How do black people collect our parts and become whole? It is certainly a job for a Goddess – Queen Auset our model, the collective black body: King Ausar.
So anyway, I am wandering in the gallery, meeting ancestors I hadn't known who fought for our liberation. I also met those I'd known along with artifacts: Gen. Harriett Tubman's shawl and Nat Turner's bible and Phyllis Wheatley's published collection of poetry. These women, along with Sojourner Truth were huge bronze statues. The following day when I am in L3: Making a Way out of No Way, which has a really powerful exhibit on Mary McLeod Bethune who is the founder of the National Council of Negro Women, I see my friend, retired veteran, Michael Gomez's grandmother, Mrs. Frances Albier (1898-1987), born in Tuskegee and a graduate from the Institute. She is in a video sharing the story of the boycott she led in Berkeley where a store owner would not hire black people. Her daughter, retired nurse, Mrs. Anita Black (96) made the sign. There is a park named after Mrs. Frances Mary Albier in Berkeley and she is responsible for the electoral success of Elihu Harris (State Assembly) Willie Brown (State Assembly) and Ron Dellums (Congress). Read more at the Online Archive of California: Frances Albier.
Both days I also met black families: mothers and fathers, grandparents, siblings and friends, and lots of children, who are asking questions and trying to understand our collective legacy. How does a parent explain black Americans continued demand for human and civil rights?
I found the mapping of the movement of legal slavery across the country with the passage of various laws quite interesting, almost as interesting as the section of the wars for this country's independence from Britain and the black soldiers who fought bravely on the side of the Loyalists and the Patriots as enslaved men.  When we get to the Civil War battles there is even more there to show how important black regiments were to the victory, a victory which did not include provisions for the formerly enslaved black people.
I am feeling overloaded at this point (my first day)—but I don't sit down, I ask one of the gallery attendants where the exhibit ends and he points at the revolving staircase two tiers above me. Yep, it is a great and mighty walk—our journey toward freedom and justice. My second visit, I loved the Cultural Expressions gallery (L4) where there were exhibits of our literary artists, visual artists and music and threatre artists. When you walk into the large room divided by display cases with artifacts, there is a video above which encircles the diameter – with artists speaking, reciting poetry, dancing . . . even President Obama dropping the microphone as he says: "I'm outta here."  It is celebratory, similar to the feelings evoked a floor earlier (L3): "The Power of Place," "Sports: Leveling the Playing Field," "On Broadway," Double Victory: The African American Military Experience. Black creative innovation from George Clinton's Mothership to Chuck Berry's 1973 Cadillac El Dorado, to the section on blacks in television – there really is no stopping black genius.
Since I was in DC for the Millions for the Prisoner Human Rights March, I was surprised when I asked folks on Level 3, where there is a great hip hop history exhibit across from a cell erected to tell the story of Angola State Prison, if they knew about the March the next day. None did and a few people were DC natives. One woman worked in a prison ministry.  That exhibit would have been a great place to leave postcards.  Another would have been in the Mary McLeod Bethune exhibit just around the corner and at the information counter downstairs.  Besides visiting the website for the National Museum of African American History and Culture, get the Official Guide to the Smithsonian NMAAHC.
At one point black men were content to hold up the corner.  Seated on crates, older men would reflect as they watched the youngsters playing ball, youth strutting with newly discovered charisma and power, and parents holding onto their babies' hands as they acknowledged the men with either a smile or greeting.  Their wives sat on porches drinking tea, chewing snuff, watching the little ones or perhaps gardening or pulling weeds.
Laughter illuminated these sacred spaces filled with love, the balm a protective covering for all in its embrace.  Such was the Ferguson, Mike Brown grew up in.  Just finished with high school, he was thinking about his future when his life was taken randomly as if black lives are temporary without a future tense.
"Whose Streets" (2017) by Sabaah Folyan (writer, director, producer) and Damon Davis (director, producer), is a question Ferguson asks the world—Michael Brown (18) multiplied by so many others, too many in a town where black and white walk along a delineated line—"unequal" about the only aspect of the Dred Scott decision that remains: "The court found that no black, free or slave, could claim U.S. citizenship, and therefore blacks were unable to petition the court for their freedom."[1]
We see Dred Scott on one of the street signs in the film, "Whose Streets," a document that shows why it was important to highlight for the world—the other Ferguson towns throughout America and abroad, places where capitalism has erased human value, the strategies and spirit of a people who fed up and ready to move on the police galvanized everyone eager to not let Mike Brown's death be in vain.
It became a family affair for Brittany Ferrell (25), a college student and single mother. She models for her daughter Kenna over the 3-4 years leading up to the verdict in the Brown case what resistance looks like and her daughter gets it.  Ferrell and other queer friends found Millennial Activists United (MAU).
David Whitt, father of four and husband is moved to act when he hears shots ring out near his apartment door. He decides to start filming police activity especially the excessive violence. "He and his chapter of Copwatch become guardians of Mike Brown's memorial, rebuilding it when it is vandalized and later removed. His counter-surveillance of local police results in his eviction and the eviction of other activists in the neighborhood.While fighting for justice, Whitt also struggles for his family's livelihood."[2]

"Underground hip-hop artist and activist Tef Poe arrives at Canfield Green to see blood fresh on the street. Tef is one of many who refuse to go inside, even when faced with military weapons and an enforced curfew. While on the frontlines he meets Tory Russell, a powerful speaker and activist, and together they form Hands Up United." Russell leads a march to the police station and in the midst of anger and frustration tells his constituents that it will take more than a day to get 500 years of answers.
Reimagining the dilapidated community of North St. Louis, Tory proposes a solution from the ground up. He launches a Books and Breakfast program and takes over a building to provide cultural resources and basic necessities for the community."
"Whose Streets" exemplifies what the great Kwame Ture (Stokley Carmichael) stated about and organized black people, that there is nothing we cannot accomplish.  Although the police man who killed Mike Brown escaped punishment, "Whose Streets" shows how the people still won and continue to win.
Damon Davis, co-director, East Ferguson resident and artist, painted hands held up – in surrender or confrontation, and plastered the posters on the external walls of businesses who supported the new resistance movement and abandoned buildings boarded up after the civil unrest settled down.
He met with Sabaah who'd come to town to on an ethnographic fieldwork assignment—she'd been collecting stories, when one of her contacts recommended Damon as a person who could help her shape the narrative and introduce her around.
"Whose Streets" is a horror story. In no way is the violence skated over or obscured as police march into pedestrians, throw canisters of tear gas without provocation. People with hands raised sling words at their opponents, yet instead of responding nonviolently, the police swing their sticks and fire their weapons.  Sabaah said that after the major news outlets left each evening, the police dropped any semblance of decency.
What is beautiful about "Whose Streets" is the peoples' will and commitment to not relinquishing their power and right to claim what is theirs—their neighborhoods, their streets and their right to occupy both.  When scavengers show up to take photos and claim aspects of what for Mike Brown's friends and family is sacred ground, the altar is dismantled and the community refuses to go on camera or participate in a public spectacle for the politicians.
Samora Abayomi Pinderhughes's soundtrack is exceptional—the words and music pulsing with energy like the folks on the screen. It is one adrenalin filled moment after another. We think we know the story, but unless you were there for an extended length of time, you really do not know what happened—
Through the characters profiled, the audience gets a sense of the movers and shakers who serve as backbone to a larger number of people who up to Mike Brown's death were passive and unresponsive. Even the leadership—I am thinking clergy and civic leaders, does not get active seeking a just outcome for the Brown family until the national spotlight makes them make a public statement.
The tragedy has ignited a spirit that was not going to retire any time soon.  On the fourth anniversary of Mike Brown's death—"Whose Streets" is a necessary rallying cry, the film itself a wonderful model of what a community can do to change a system stacked against them.
For each community experiencing these types of daily rehearsals of injustice, somewhat like a catechism, the strategy will change dependent on the particular landscape.  "Whose Streets" provides a model and as such validates Ferguson citizens's right to resist and demand justice. Similarly, the citizens of Charlottesville deserve the same validation.  State violence might be normed as is that of white racists against black people, but it is not a norm we accept.
With humanity on the chopping board, "Whose Streets" shows ordinary citizens: beaten and intimidated standing up.  The world is what we make it and often just remembering the streets are a public space, that anyone is able to cross or walk on this marked piece of highway, is liberating for a lot of black youngsters who do not know safety or freedom.
The film opened on August 11, but today, August 9, we wanted to celebrate Mike Brown's life – The New Parkway in Oakland,  is hosting a screening tonight.
Here is a link to an interview with the directors in April when the film debuted at the San Francisco International Film Festival: http://tobtr.com/10184253

[1] http://www.history.com/topics/black-history/dred-scott-case
[2] All notes from: http://www.whosestreetsfilm.com/